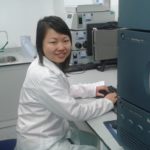 Many congratulations to Jing Han who has been selected by the China Scholarship Council for their prestigious annual National Excellent Self-Funded Students Scholarship.
The scholarship is in recognition of Jing's academic excellence for her PhD research of traditional Chinese textile dyes at the CTC supervised by Dr Anita Quye and Prof Nick Pearce, for which she has recently been awarded her doctorate.
Jing is one of only 31 Chinese scholars in the UK to have received this year's elite accolade from the CSC, and we are delighted for her and this great success. Well done, Jing!