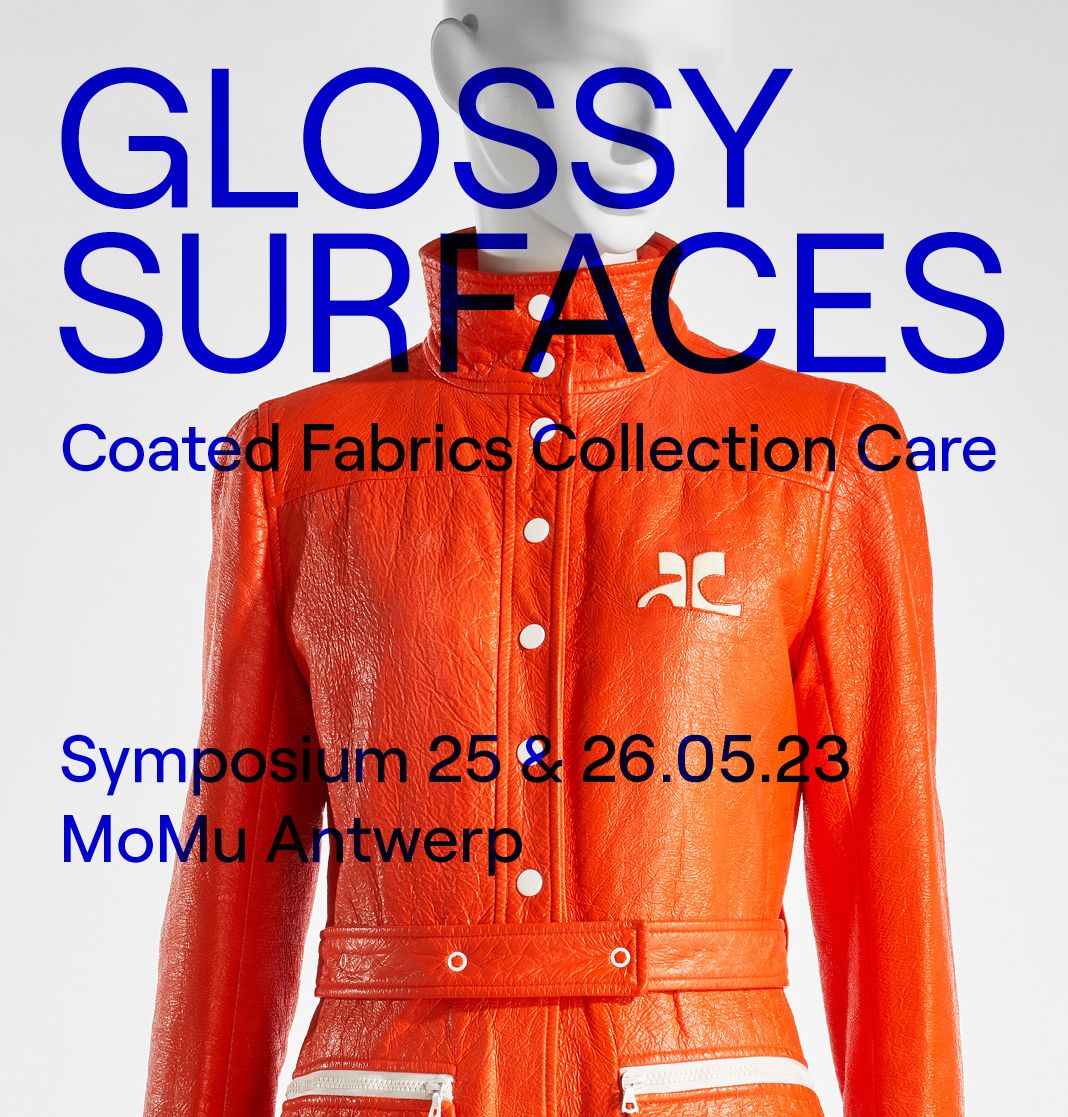 by Gracile Roxas, 2nd year student, MPhil Textile Conservation.
I was given the amazing opportunity of joining the Coated Fabrics Collection Care Symposium in Antwerp, Belgium on the 25th and 26th of May 2023. The symposium, hosted by the Fashion Museum Antwerp (MoMu), aimed to shed light on polymer coatings commonly found in fashion and textile collections, focusing particularly on thermoplastic polyurethane (TPU).[1]
A coated fabric is a multilayer material in which at least one is a textile fabric, and at least another one is a substantially continuous polymeric layer. The layers are bonded together by their adhesive properties or by an adhesive. [2] Polymer coatings have been applied to textiles since the 20th century for various purposes such as creating glossy surfaces or imitating leather, or endowing desirable properties like shape retention and impermeability. The versatility and durability of polymer coatings like TPU widened the possibilities in the design and construction of garments and fashion accessories. Their widespread use since the 1960s has led to the presence of coated fabrics in fashion and contemporary art collections. Their rapid and unusual process of deterioration has therefore become an area of concern for museum professionals handling such collections. [3] The symposium provided a platform for conservators, curators, researchers, and designers to share their experiences and the results of their studies in prolonging the lifespan of such objects.
The first set of presentations in the symposium featured the results of the Glossy Surfaces Project, a three-year international research project funded by the Flemish government which started in 2020. The project aims to map the conservation problems arising from synthetic coatings used in fashion and to find solutions to address these problems. [4] Different aspects of the project were presented, including a survey of coated fabrics in the museums involved in the project, the analysis of polymer coatings to understand their deterioration process, the development of conservation treatment methods, and the creation of a digital damage atlas. It was followed in the afternoon and in the morning of the second day by presentations on the characterisation and conservation issues in particular museum collections.
As someone coming into the symposium more out of interest and curiosity rather than having encounters or particular questions centering on coated fabrics, I found all of the presentations informative. While I attended the event expecting to most enjoy the scientific and technical aspects of the research and care of such objects, I also appreciated that these were balanced with moderated debates with conservators, curators, and designers, in which they discussed issues in collecting and exhibiting coated fabrics and the sustainable use of synthetic materials in design and fashion. It is tempting to focus solely on the details of conservation treatments, so I found these broader discussions helpful in bringing us, members of the audience, back to the importance of conservation in documenting and understanding fashion history and making fashion collections accessible.
In the last part of the symposium, I joined the 'Removal of Blooming' and 'Damage Assessment' workshops. Picking up from the presentation about the different ways to remove blooming from TPU-coated fabrics, we got the chance to try and compare different methods that have so far been found to be effective or promising. In the damage assessment workshop, we were shown a simpler version of a system developed particularly for the coated fabrics in the MoMu collection and asked to try it ourselves by looking at a few objects with varying amounts of coating, and type, extent and pattern of damage, among others.
Figs 2&3: Testing different bloom removal methods during the workshop.
Overall, I found the experience worthwhile not only because of the informative and interesting presentations and workshops but also for being able to discuss and connect with conservators and other people with common interests. The challenge presented by coated fabrics is huge and urgent, but the efforts of the people currently working on such collections and the solutions they come up with are impressive. I am personally drawn to the conservation of modern materials in fashion as it combines chemistry and textile conservation, so I am grateful to not miss this chance to learn directly from the people at the forefront of this highly specialised field in conservation.
Many thanks to the Textile Conservation Foundation and the Beatrix Whistler and James McNeill Whistler Scholarship Committee for their financial support that allowed me to travel to Antwerp and participate in the event with less worry.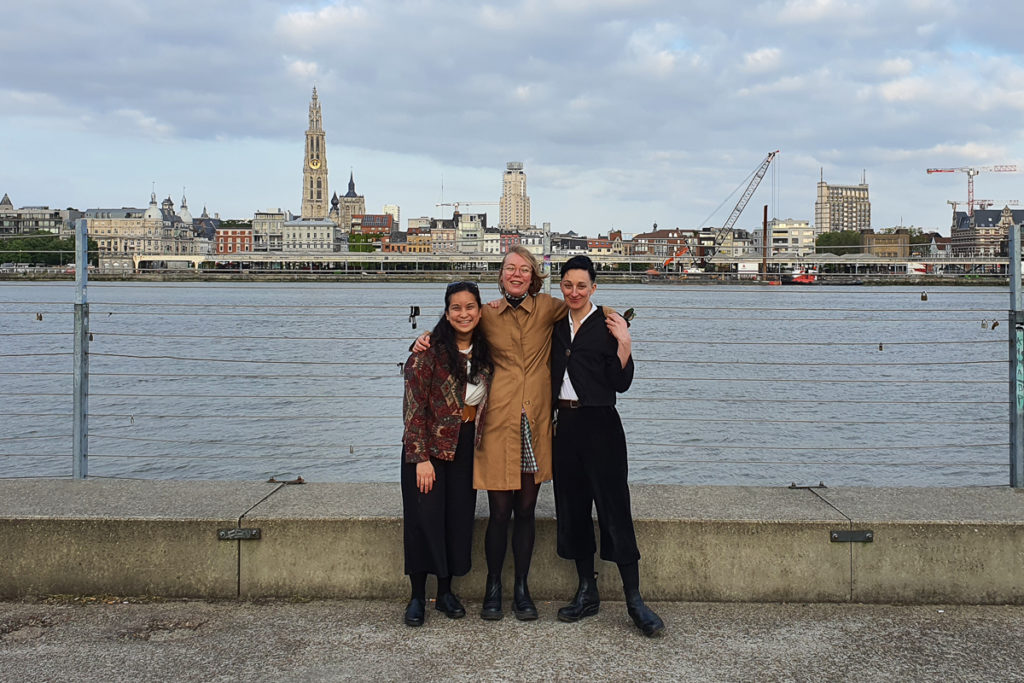 [1] MoMu Antwerp."Coated Fabrics Collection Care Symposium / MoMu – Fashion Museum Antwerp," January 27, 2023, https://www.momu.be/en/activities/coated-fabrics.
[2] McIntyre, J. E., Professor, and Paul N. Daniels, eds. Textile Terms and Definitions. 10th ed. Book, Whole. Manchester: Textile Institute, 1995. https://go.exlibris.link/Bv88XVRP.
[3] França de Sá, Susana, Kim Verkens, Adriana Rizzo, Glenn Petersen, Sarah Scaturro, Inês Correia, and Madalena Carita. "Synthetic Coatings in Fashion Collections: Identification and Preservation Issues." In Handbook of Museum Textiles, edited by Seiko Jose, Sabu Thomas, Pintu Pandit, and Ritu Pandey, 1st ed., 319–44. Wiley, 2022. https://doi.org/10.1002/9781119983903.ch36.
[4] Ibid.