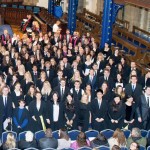 by Kate Clive-Powell, MPhil Textile Conservation graduate 2015, now Intern in Textile Conservation at Bowes Museum.
With great excitement my classmates and I recently graduated as textile conservators. We are the Centre for Textile Conservation's fourth cohort of students to graduate since it opened at The University of Glasgow in 2010. The occasion was marked by a graduation ceremony in the University's grand Bute Hall. Sadly, my international course mates could not be at the ceremony but attending the event were Fiona Wain, Cecilia Voss, Jamie Robinson and myself.
It is hard to believe that it was over two years ago that my dad first drove me all the way from West Wales to Glasgow to begin the MPhil programme. The time has truly flown by in a flurry of conservation reports, object treatments, field trips, internships and much more. We all worked very hard over the two year programme and learnt a great deal, so it is a fantastic feeling to have qualified.
While studying in Glasgow I never ventured into Bute Hall, so I was dazzled by the grandeur and beauty of the space when I entered for the ceremony. Designed by the architect George Gilbert Scott, this large neo-Gothic hall was built between 1878-1884. I learnt that the hall's construction was funded by the 3rd Marquess of Bute, who commissioned the construction of several magnificent Victorian buildings, including the neo-Gothic remodelling of Cardiff Castle.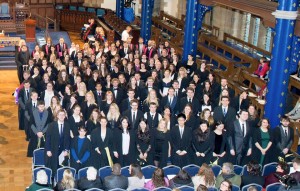 It took less than 10 seconds for each of us to receive our degrees, but it felt great. We went as a group to the main stage clasping the hoods of our gowns. Then as our names were read out we were each 'capped' by the Chancellor as the Bedellus put the hood over our heads. Our hoods were bright pink, one of the many different coloured hoods visible in hall. Each colour represents a different degree, and many of these colours have been inspired by the native flora of Scotland. After the 'capping' we picked up our well-earned certificates and headed back to our seats, while everyone clapped enthusiastically.
After the ceremony we all went to the university's quadrangles where we were met by friends, partners, family and our tutors. It was lovely to share this happy occasion with them, as they have played a large part in our success.
Well done all!
A note from Sarah,
Frances, Karen, Anita and I would like to congratulate all of this years graduates on their marvellous achievement:
From left to right in the picture: Jamie Robinson, Fiona Wain, Kate Clive-Powell, Cecilia Voss, Maria Kinti, Gennifer Majors, Geraldine Sim, .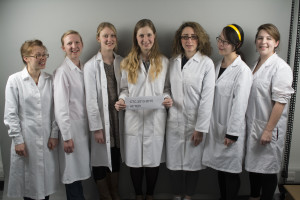 As Kate has said, the programme is intense and demanding ( as well as fascinating and hugely rewarding, of course! ) and  we were delighted and proud to be able to attend graduation in order to applaud their achievements and celebrate their success.
We wish them all luck and hope that they will stay in touch.