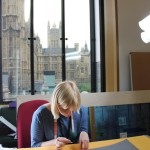 by Freya Gabbutt, 2nd year student, MPhil Textile Conservation.
In August, during parliamentary recess, three students from the MPhil Textile Conservation programme at University of Glasgow and one BA (Hons) Conservation of Cultural Heritage from the University of Lincoln worked together to work to maintain the Contemporary Textile Collection of the Palace of Westminster.This project for emerging professionals has been running for the last three years, initiated by the Collections Care Manager, Caroline Babington. Conservation work has been project managed by Textile Conservator Zenzie Tinker and assisted by Natalia Zagorska-Thomas.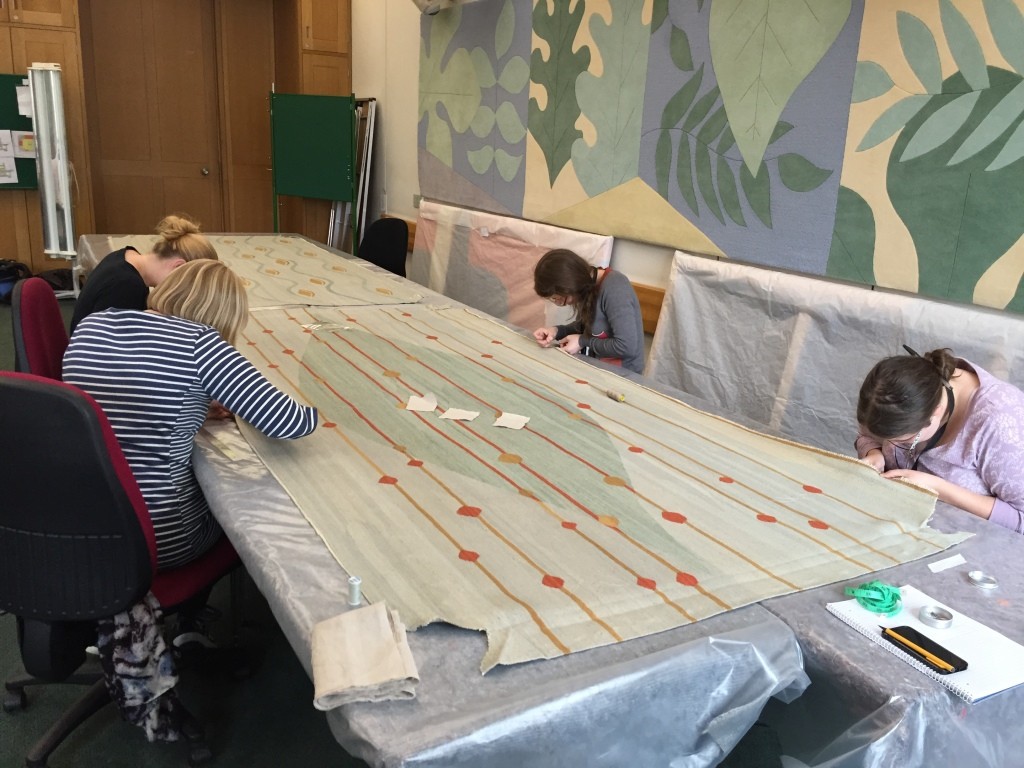 The focus of the project as a whole is the 'acoustic hangings': mainly tapestries and carpets, so called because they were designed and selected by the building's architect to soften the acoustics in the Select Committee Meetings rooms in Portcullis House. This year's project was a little different from previous years as five of the pieces were felts, designed and made by Helen Yardley. These required surface cleaning and spot cleaning and some support stitching. Working closely together as a team on a single object does not happen very often at Glasgow and so it was a great opportunity to be able to practise this. Additionally we worked on two tapestries designed by Allegra Hicks which required surface cleaning and improved mounting.
It was reassuring that although the medium, scale and age of the pieces were very different to anything I had worked on before, many of the techniques and ethical issues were the same. For example, we had to establish an acceptable level of fibre loss while undertaking mechanical cleaning with smoke sponges and museum vacuuming. The project has also given me the opportunity to learn some new techniques; we experimented with gels and solvents to reduce stains and soiling on the felts.
For me the most interesting part of the project was to be involved in working in an institution that doesn't have objects as its main purpose. I think this project has allowed for greater conservation input for the long term preservation of the pieces. While we worked to conserve the objects, we also created a proposal for a longer term cleaning regime, and helped out with the on-going integrated pest management regime. The four weeks were a fantastic experience for grounding and developing my knowledge of textile conservation. I really hope the project continues for future trainee conservators to have the same opportunity.