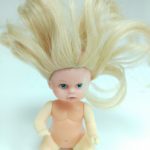 By Dr Anita Quye, Programme Convenor for Modern Material Artefacts, Senior Lecturer in Conservation Science, and Head of History of Art.
Life became more fashionable and convenient when mass produced synthetic materials entered everyday living. For the last 160 years, plastics, colourants and fibres transformed from natural resources have been squeezed, rolled, pulled, blown, coated and impregnated into commercial goods. These 'modern materials', synthesised on an industrial scale in a new alchemical age of scientific discovery, offer a seemingly unending range of objects to decorate our places, spaces and ourselves. Modern synthetic materials are now so engrained in our everyday world that they are almost invisible. When it comes to museum collections of design classics and modern culture artefacts, these synthetic materials abound with a somewhat mysterious presence. Ironically, these everyday materials are the ones that museums and archives with collections of modern culture are least sure of.
At this moment in time we face a glut of synthetic twentieth and twenty first century materials. Inevitably when they are no longer in our everyday world we will value them differently. As human society evaluates the environmental impact of convenience, and questions the morality of a throw-away culture, familiar everyday materials being relegated to cultural memory in museums and archives acquire a different status. The humble high street plastic carrier bag from twenty years ago – shiny and strong – is a rarity. Indeed, one of our greatest collection challenges is making decisions for materials so familiar to us that we have had little need to understand or question them. Only when they change or are lost do they grab our attention. Some synthetics are notorious for their relatively quick degradation – plasticised PVC, basic aniline dyes, and cellulose nitrate for example. Other are certain to become unstable with time, like 3D printed objects made of recycled plastics. We face decisions about where to put our conservation, scientific and curatorial resources to care for these materials. A collecting policy for plastic straw designs may well be just around the corner…
The future for modern materials as historical artefacts is causing a paradigm shift in cultural heritage. Care and access are challenged not only by physical loss but also how to interpret and value the familiar. As well as understanding the detailed chemical composition of a material for its preservation, we need to decide why it is important to hold on to the artefact and to be realistic about sustainable expectations for its future. How to capture and stimulate tactile memory about how artefacts felt or moved as much as their static physical embodiment, especially when they lose their original function in a material or aesthetic sense, is a challenge we still face.
As conservators, curators, collection managers and heritage scientists, we must ready ourselves to be better at negotiating the maze of material knowledge and understanding, often technical and industrial, about modern plastics, synthetic fibres and artificial colourants. We need to (re)learn the art and a science of looking closely at materials, to interrogate their variability and quality, see beyond the familiar, and challenge misconceptions (cellulose nitrate combs do not explode!). We should delve more into the history of industrial making and user function through the wealth of information in archives. We also need to step back to filter out material 'noise' to reveal or reshape stories and identify what is important and manageable for our care and attention.
All of these reasons, alongside similar views from more than seventy heritage professionals, mostly conservators, have led to new 1 year Modern Material Artefacts taught postgraduate programme at the Centre for Textile Conservation and Technical Art History, University of Glasgow, developed '…to broach an increasingly present and complex issue in museums and archives…' as the Institute of Conservation puts it. Based on my research approach to addressing the complexities of 'everyday' modern material culture and commercial production within their fields of science and history, then challenging them at interconnecting boundaries, I want students to hone their material awareness skills to face familiar and unfamiliar modern material artefacts through close object study, laboratory experimentation, and information research in archives and museums, and to formulate interdisciplinary 'tools' from applied arts, commercial production and scientific understanding through material history and composition.
The MSc in Modern Material Artefacts, which starts September 2018, has a unique focus on 'everyday' artefacts in collections of decorative arts, fashion and social history, including fibres and colorants as well as plastics and coatings. The programme is aimed at the needs of those in or entering the heritage sector, and structured around five core courses:
Making – the chemical properties and industrial production of key synthetic material to recognise them, understand their physical properties for shaping into objects, and underpin how and why they can change.
Shaping – how typical forms and functions of commercially-produced artefacts made from key synthetic materials are determined by their chemical and physical properties, and how clues about their composition can be unlocked through object examination.
Changing – how and why the ageing and degradation of key synthetic materials is linked to intrinsic properties from manufacture and quality, form and function, and environmental factors, and different approaches to mitigating changes.
Ethics for Artefacts – thought-provoking discussion and debate about the interpretation, investigation and preservation of modern materials from perspectives from curators, conservators, scientists and multidisciplinary researchers and their decision-making.
Research skills – to investigate modern materials through the history, science and technology of their commercial production and use.
In addition is an options course, chosen from many on offer in History of Art, indeed across the College of Arts, or independent study. These taught elements attain a postgraduate certificate level (PgCert), with an additional 12 week dissertation completing the MSc. A teaching team of experts from Glasgow and beyond will draw upon have the rich resources of Kelvin Hall, a new cultural hub at the University of Glasgow for museum and archive collections with academic spaces for object study.
I look forward to welcoming everyone excited by the prospect of bringing their own disciplinary perspective to modern materials in artefact collections, and to exploring and growing their understanding through the history of art, history of design and technology, and material science.
Full details of the MSc Modern Material Artefacts programme, and the admissions process for full-time and part-time study, can be found here: https://www.gla.ac.uk/postgraduate/taught/modernmaterialartefacts/. International applications (non-EU) are open until 21 July 2018, and UK and EU applications until 25 August 2018.
Thanks to The Clothworkers' Foundation, a number of bursaries are offered for the inaugural year of the programme, administered by the Textile Conservation Foundation (https://www.tccfoundation.org.uk/(applicants will be provided with details). Also, mid-career conservators are eligible for Tru Vue Icon CPD bursaries,  with a closing date of 30 April 2018. I thank Dr Julie Wertz, Dr Alan Wyles and Dr John Liggat for their assistance with preparing and developing content for the programme, Professor Frances Lennard for her encouragement, and the Textile Conservation Foundation for its support and development funding which included the consultative scoping study by Fiona Macallister.
Quye, A. 2017. Quality matters for historical plastics: the past-making of cellulose nitrates for future preservation. In: Teissier, P., Mody, C. C.M. and Van Tiggelen, B. (eds.) From Bench to Brand and Back: The Co-Shaping of Materials and Chemists in the Twentieth Century .Cahiers François Viète: 45-68.  http://www.cfv.univ-nantes.fr/cahiers-francois-viete-serie-iii-n-2-1536291.kjsp
Quye, A. 2014. Factors influencing the stability of man-made fibers:  a retrospective view for historical textiles. Polymer Degradation and Stability, 107: 210-218 doi:10.1016/j.polymdegradstab.2014.03.002
Dye-versity: chemical variability of aniline dyed textile samples in nineteenth century dye books. Carnegie Trust Research Initiative [link: https://www.gla.ac.uk/schools/cca/research/arthistoryresearch/projectsandnetworks/dye-versity/]