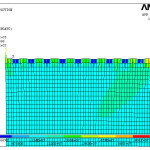 by Margaret Smith, Research Associate & University Teacher.
The Leverhulme funded research project,  'From the Golden Age to the Digital Age: Modelling and monitoring historic tapestries'  held its first advisory panel meeting at the School of Engineering, University of Glasgow on the 30th Nov 2016. The meeting kicked off with the project team, made up of conservators and mechanical engineers, Prof Frances Lennard, Dr Philip Harrison, Dr Jafar Alsayednoor and PhD student Cecilia Voss, giving interesting and informative presentations on the aims of the project and what had been achieved so far.
This tapestry research project aims to understand the degradation, both physical and chemical of these large but often fragile heterogeneous objects and to develop strategies to help prolong their lifetime. To do this, part of the research will be to create a computer model of a tapestry structure using commercial finite element analysis. This works by subdividing the tapestry into smaller parts, or finite elements, to capture the complexity of the structure. Currently digital image correlation (DIC) is being used to monitor The Mystic Hunt of the Unicorn, at Stirling Castle, which will give information of areas of excess strain. DIC, although used previously in a pilot study to monitor tapestry ( http://www.tapestry-strain.org.uk/ ) has not been explored as a strategy that could be commercialised for tapestry monitoring.
Additionally the project aims to understand the effects of displaying tapestries on sloping boards, a practice currently growing in popularity in galleries and museums. The research will not only focus on this display type from a perspective of strain alleviation but also on how the fabrics on these boards impact on friction, how differing angles may accumulate dust and thus increase the potential for degradation and also how differing angles, in buildings where UV light can penetrate, may cause graduated fading.
In addition to the 4 team members there are 12 members on the advisory panel which includes engineers, chemists, physicists, tapestry conservators, historians, curators and tapestry weavers. Discussion ranged from the mathematics involved in finite element analysis to the effects of stitching types used in tapestry repair, demonstrating the true meaning of interdisciplinary research.
Speaking from my own point of view I found it an extremely interesting and inspiring meeting and I am sure that the project team together with their advisory panel will produce useful and practical findings which will have a very positive impact on how tapestry is monitored and displayed in the future.