by Misa Tamura, Research Conservator for Situating Pacific Barkcloth Production in Time and Place
The research team working on the project Situating Pacific Barkcloth Production in Time and Place were at a stall in the Hunterian Museum talking to visitors about the project and the museum's Pacific barkcloth collection, as part of the University of Glasgow's Explorathon, European Researchers Night on 30th September.
The Pacific barkcloth collection at the Hunterian Museum is historically significant but greatly under-studied. Materials used to manufacture these cloths are largely unidentified and their provenance is not always well documented. Many items are fragile with structural damage, making them difficult to access or handle without the risk of further damage.
The project team, comprising an historian, a material scientist and a conservator, have been uncovering the collection from the perspectives of their respective disciplines and were keen to share this important research with visitors.
The stall was equipped with a microscope where the visitors viewed a resin-embedded cross section of barkcloth fibre sample with a distinct layer of applied surface. It gave visitors a fascinating insight into pigments and fibres used in the barkcloth production.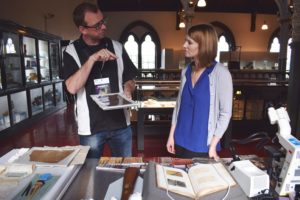 A historic sample book of (almost) Pacific barkcloths, kindly lended to the project, was also out on the stall. The diverse and intricate patterns and designs were particularly appreciated by several visitors. A historical barkcloth beater: a heavy, wooden, grooved mallet used to beat the inner bark of a tree to produce barkcloth, was on the table to aid our explaning how the barkcloth makers left their characteristic "Beaters mark/watermark" on the cloth.
There was also a demonstration of conservation: the idea of retreatability was discussed through the  removal the old lining repair to a modern barkcloth piece and applying a localised temporary structural support using Japanese paper. A few brave visitors tried their first paper mend to a modern piece of barkcloth.
In the space of one afternoon, over 40 visitors dropped by the stalls to speak to us. They were from various backgrouds from casual visitors to scholars as well as museum professionals.  We had very encouraging feedback such as "I knew nothing about barkcloth at all! Thanks for an interesting and informative experience" and "It is very fascinating to learn about something new! Hope to see some samples on display the next time I visit".
To find out more about the project, visit us on our website: http://www.tapa.gla.ac.uk