By Tabby Gibbs, Second Year Student, MPhil Textile Conservation
An important part of the textile conservation planning process is testing, testing…and more testing! Before any decisions can be made about how to treat any object, we need to fully understand the materials and degradation products that are present.
A great way of carrying out initial testing is by creating mock-ups, which can help you develop your thoughts and rule out ineffective treatments before doing any potentially harmful testing on the object you are treating.
Last semester, I treated some shoes which had some large tidelines and I decided to make some mock-ups of the staining to devise a best course of action. I sourced a test shoe and splashed about in some muddy puddles (garnering some strange looks on the streets of Glasgow – I said it was to make my Halloween costume!). I then left the test shoes to quickly dry under a radiator with the aim of creating artificial tidelines on which I could then carry out tests. Having the mock-ups was really helpful and assisted me in narrowing down the technique and materials I would use on the shoes themselves.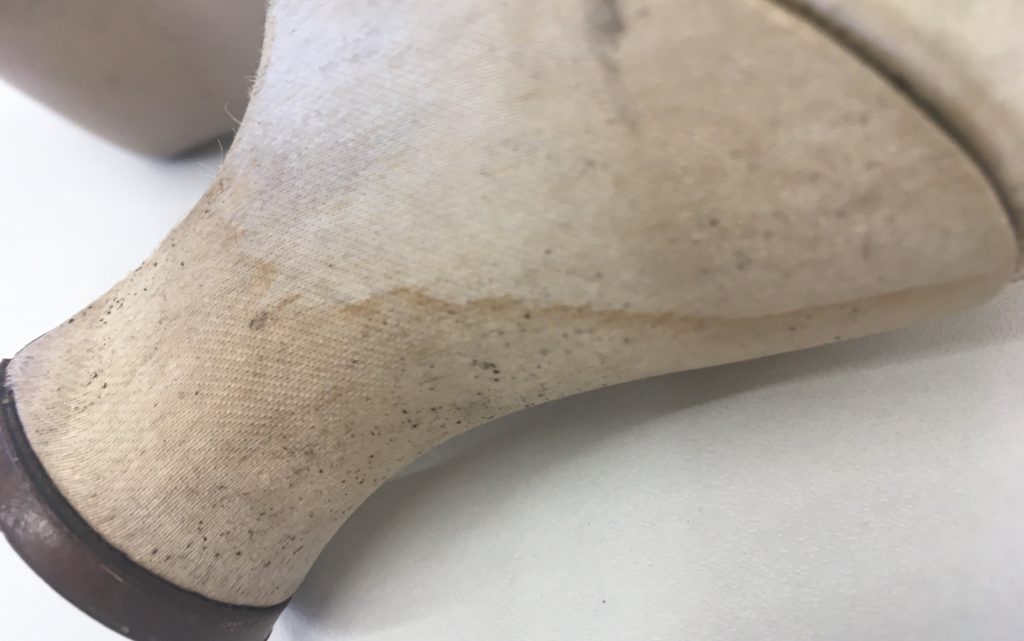 This semester I have been carrying out a treatment on a very heavily soiled cushion cover. The cushion is made of haircloth, a fabric with a horsehair weft and cotton warp (regular readers of the blog will remember a post I wrote about identifying horsehair ).
The top fabric of the cover has complex soiling ingrained into the weave structure. Microscopic inspection and scientific analysis suggest that the soiling is mostly soot and grease based. The cushion was in use in a busy restaurant environment for 50 years, so this makes sense. I again created mock-ups for testing to better understand the soiling and plan my approach. I gathered samples of haircloth and decided to replicate the soiling as closely as possible and create a surface on which to carry out tests[1]. They have been hugely helpful so far in making informed decisions, as well as providing the opportunity to think more closely about the degradation. The process of trying to match the artificial soiling to that which was present on the cushion cover was almost as helpful as the tests themselves, as it required me to develop a detailed understanding of the classification of the dirt and therefore its potential to cause damage to the textile[2].
Of course, if you do not want to get messy, you can also buy pre-soiled sample fabric, which is useful for carrying out standardised experiments. However, this does not allow for customisation of the soiling or material type dependent on the textile object. So, for fun, I have outlined my 'recipe' below, which I will use as a useful starting point if carrying out this process in the future.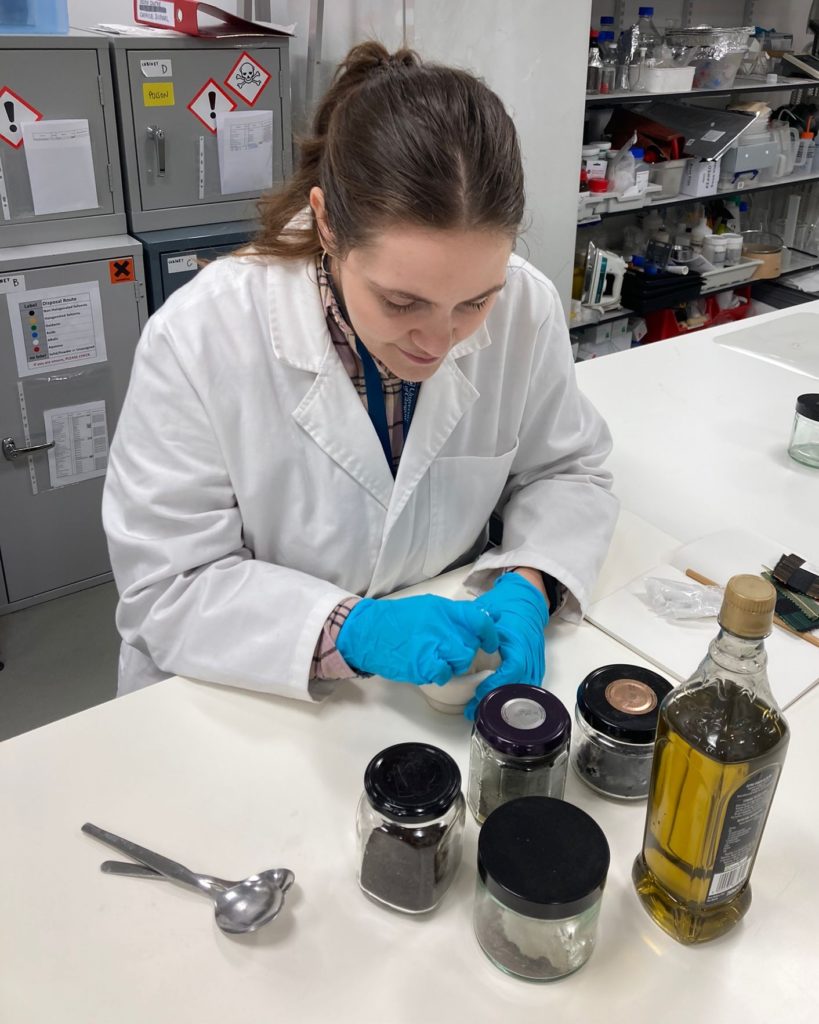 Recipe for a Scrumptiously Soiled Surface*
Ingredients
1 tablespoon of olive oil (I used Napolina Extra Virgin Olive Oil, but other varieties are available)
2 teaspoons of soot (wood and coal burning fires are the perfect source, call on someone who has a chimney which can be scraped)
1 teaspoon of dust from a Museum Vac® (sieved through net to remove larger particles and fibres)
Add to preference: soil, coffee grounds, chalk/charcoal (for texture)
Materials/Equipment
Blotting paper
Brush
Iron
Melinex®/polythene
Pestle and mortar
Spoons
Test fabric (as close as possible to that of the object)
Instructions
Mix soiling ingredients. Where necessary, grind dry ingredients in a pestle and mortar prior to combination.
Lay test fabric on sheet of blotting paper and brush soiling mixture onto surface. Methods of application can be experimented with dependent on desired soil texture.
Leave to dry on a sheet of Melinex®/polythene.
Bake soiling into the surface using heat from an iron (set to a level appropriate for the fabric type) for 10-20 minutes until set (this can be messy so I would recommend several barrier layers between the fabric and iron/ironing board).
*Disclaimer: for entertainment purposes only – not for consumption!
---
[1] Aisling Macken and Margaret J. Smith, "Solvent Vapour use – the Unintended Consequences in Textile Conservation," Studies in Conservation 64, no. 6 (2019): 354.
[2] Ágnes Tímár-Balázsy, and Dinah Eastop, Chemical Principles of Textile Conservation (Oxford: Elsevier, 1998), 158.