by Julie Wertz, PhD student 
Someone told me last summer that the first year of a PhD is spent reading, the second year you feel like you get nothing done, and the third year you panic and do everything. Whenever this feels like it's becoming a reality, I remind myself of all the things I have achieved so far.
My current project title is 'Resurrecting Turkey red: Adapting a historic process for modern re-creation and analysis'. It's a cross-disciplinary project between the Textile Conservation Centre and Organic Chemistry, funded by the University of Glasgow's Lord Kelvin Adam Smith Scholarship Scheme, which every year funds ten PhD students working on research that initiates collaboration between members of staff who have not previously worked together. My work centres around a collection of textile sample books in the Scottish Business Archive here at the University which provide a valuable resource of authentic historic samples, laboratory notes and business recordsfor me to study. The  image shows a page of one of the sample books. 
Turkey red textile dyeing was once a major industry in the Glasgow area, particularly on the Leven between Loch Lomond and Dumbarton. The first dye works was founded in 1785 and the last Turkey red was made in 1936, spanning 150 years of Glasgow's history. Despite its relatively recent demise, there is still a lot about Turkey red that is yet to be explained. The process was a lengthy one, incorporating steps for oiling the fibres, mordanting with alum, dyeing with madder roots or synthetic alizarin, and boiling under pressure with soap. Some of the ingredients used were sheep dung, chalk, bullock's blood, rancid olive oil, and sumac leaves. Through research into the written records and analysis of historic Turkey red samples I aim to understand the process, which remained largely unchanged over the period of manufacture and yet the chemistry of which has yet to be established.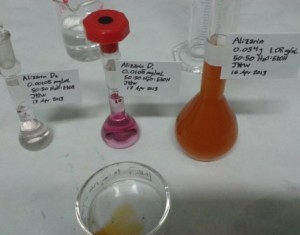 Various alizarin and mordant complexes in solution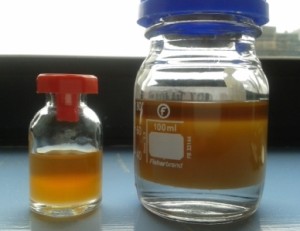 Sulphated castor oil used in dyeing, also called Turkey red oil
My undergraduate degree in chemistry has prepared me well for the amount of technical reading and thinking this project involves. I can appreciate that not everyone finds molecular structures to be interesting or understandable, and one of my goals for this project is to make as much of my research as possible accessible to a non-expert audience. Aside from giving talks as often as I can, I also participated in the 2013 Hunterian Associates Program  which is an initiative through the Hunterian Museum for postgraduate students to share their expertise and engage with the public through the lens of Hunterian or Archive objects. I produced a series of short videos entitled 'Turkey red prints', which explain the process of discharge printing colour onto Turkey red cloth in non-technical terms. These are available as Part 1, Part 2 and Part 3 on Youtube and also via my own project blog which is linked to the Hunterian Associates website.

My hope is that my research will help us to understand better a large part of Glasgow's cultural and industrial heritage and how best to preserve and interpret it. I would like to be able to adapt what I'm learning about the chemistry of Turkey red for modern use, perhaps to make changes toward sustainability in the textile industry or to help with the environmental effects of textile manufacture.
In addition to my Hunterian Associates Project, I'll be giving a talk on April 15th, 2014 for the Friends of Glasgow University Library. I try to keep my blog current with what I'm doing and if I'm giving any talks, and I'm always available for questions!