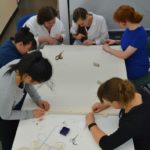 By Becky Doonan, 2nd Year Student, MPhil Textile Conservation
Last month, the 2nd year MPhil Textile Conservation students at the Centre for Textile Conservation (CTC) had the opportunity to work with The Hunterian, Glasgow. Founded in 1807 on a bequest from Dr William Hunter, The Hunterian is home to one of the finest university collections in the world, having varied and outstanding collections including scientific instruments, archaeology, numismatics, world culture objects and natural sciences.  It is also well- known for its collection of works by the artist James McNeill Whistler (1834–1903) and for its many pieces by Glasgow based architect and designer Charles Rennie Mackintosh (1868 – 1928).
Many of the objects in the museum collection are currently making their way to a new storage facility at Kelvinhall, and it was this journey that we were involved with. We were given the task of designing and implementing storage solutions for two tricky textile objects, to allow them to be safely moved to their new home. The first textile was a length of fabric from the "Lug chair" (c.1900) in the Mackintosh House at the Hunterian Art Gallery. "Lugs" refer to the Scots word for ears, due to the chairs characteristic side panels. The fabric had been previously removed from the chair due to its fragile and heavily soiled condition. The second textile was a highly decorative blue silk cloth embroidered with a pair of lobsters in metal thread embroidery and silk floss. This is thought to have been owned by the McNeill Whistler family and is believed to be a fukusa, a Japanese gift cover.
Working in two groups of four, we set about documenting, analysing and planning. After two action-packed days of hard work, each object had a custom made box, a calico covered padded board, and a padded insert to prevent movement during transport. The lug chair fabric was also stitch supported and encased in a fine nylon net, to facilitate safe handling in the future. The challenges and practicalities of working across multiple sites were aspects that were new to most of us; the textiles remained at the Hunterian and box making also took place here, whereas the padded boards and inserts were made at the CTC, due to space restrictions. Accurate measuring and dimension calculations for each of the elements were therefore crucial, and we all breathed a sigh of relief when they all fitted together successfully!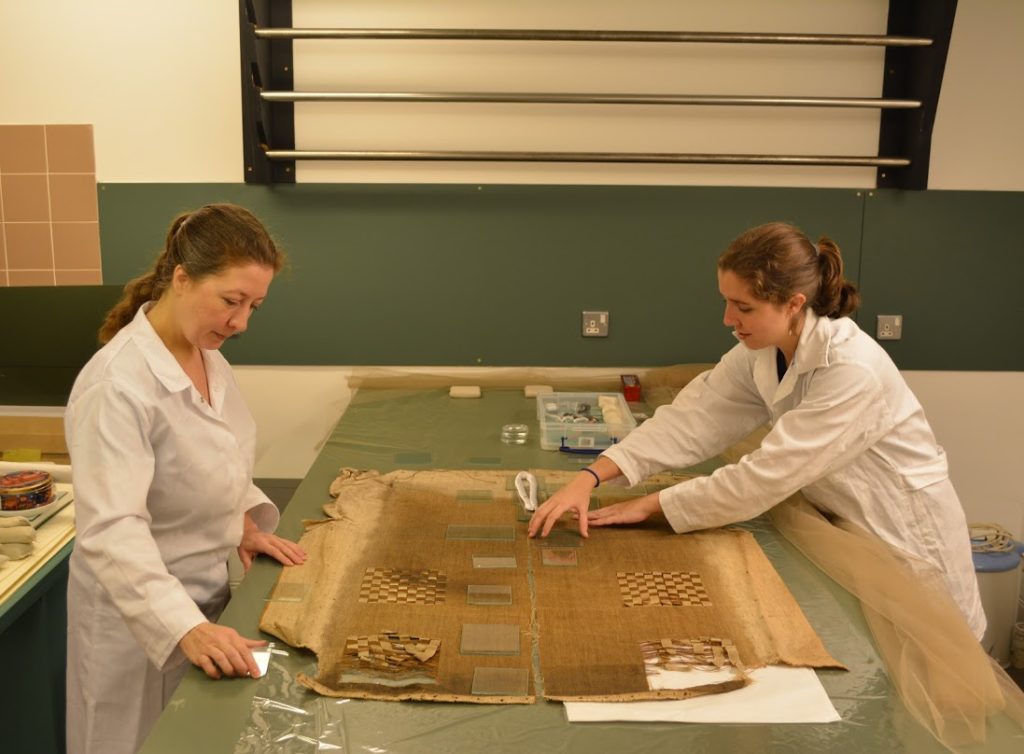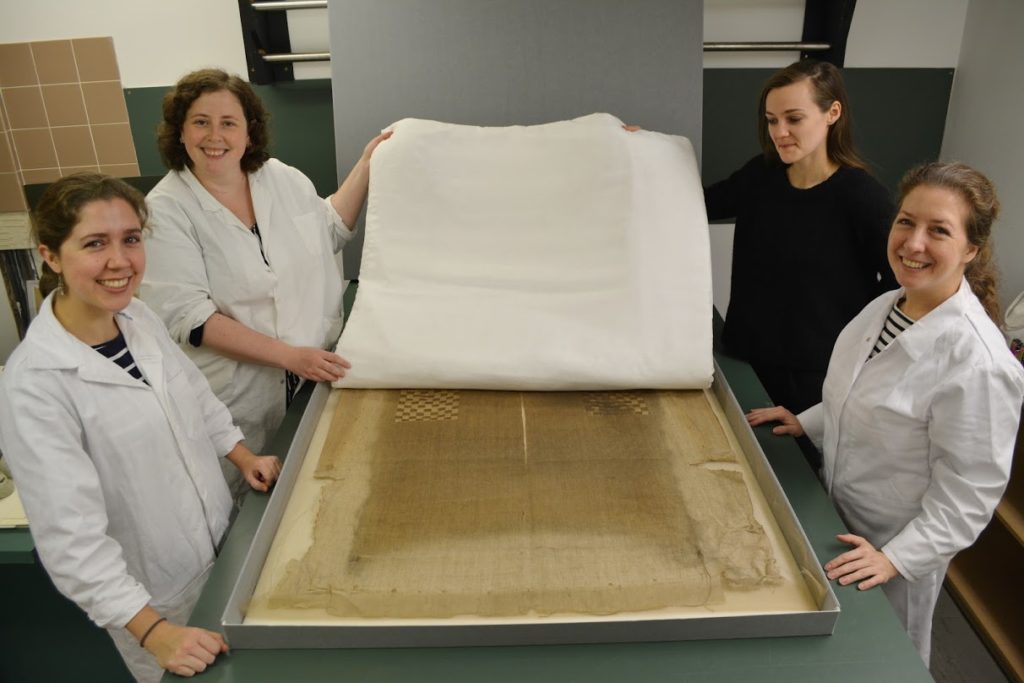 This proved a really valuable project in many ways; it gave us all a taste of project management, working within a tight deadline and utilising every member of our team.  The satisfaction of seeing the project through to completion was great, with both objects safely transported and now sitting comfortably in their new home.
Many thanks to Aileen Nisbet, Conservation Manager at the Hunterian, for all her help and advice during the project, and to our tutor Karen Thompson for coordinating this project.