by Frances Lennard, Professor of Textile Conservation.
The activities of the Centre for Textile Conservation and Technical Art History encompass research as well as teaching on the textile conservation and technical art history programmes. A major research project on Pacific barkcloth, funded by the Arts and Humanities Research Council, is now nearing completion. The project was a collaboration between the Centre, the Economic Botany Collection at Royal Botanic Gardens, Kew and the National Museum of Natural History, part of the Smithsonian Institution in Washington, DC.
A major project outcome has now been achieved with the opening of an exhibition, Barkcloth: Revealing Pacific Craft, in the Hunterian Museum at the University of Glasgow. The exhibition is free and runs until November 29 – do come and have a look at it if you're in Glasgow. We are extremely grateful to the Hunterian team for creating the exhibition, especially Dr Lola Sanchez-Jauregui, curator for The Hunterian, designer Chris MacLure, and the collections management and technical teams.
The exhibition showcases barkcloths from the Hunterian collection together with objects from the Royal Botanic Gardens, Kew – these two collections were the focus of the research. It reports on key aspects of the work undertaken by the three project researchers. Dr Andy Mills, Pacific art historian, investigated the collections provenance and researched barkcloth plants and the manufacturing processes used to turn them into cloth; Dr Margaret Smith, materials scientist, developed new methodologies for analysing the plant materials and carried out analysis of several of the cloths; and Misa Tamura, research conservator, treated objects from the two collections, improved their storage and developed conservation treatments for barkcloth.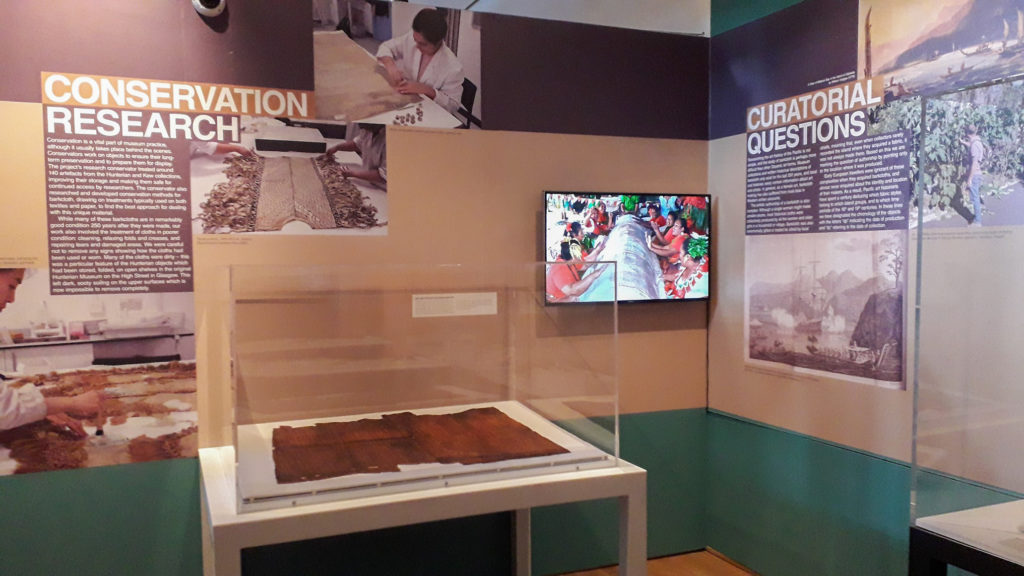 The project, which took place between 2016 and 2019, gave several cohorts of textile conservation students the opportunity to develop skills in barkcloth conservation and storage, as they volunteered to work alongside Misa in the conservation lab. Most recently, two of the current students, Danica Auld and Isabella Rossi, helped out with the installation of two large cloths in the exhibition. We are very grateful to all the student volunteers for their work on the project over the last few years.