by Anaka Asokan and Echo Godfrey.
The Centre for Textile Conservation has always fostered collaboration and has worked with many museums and institutions to provide students with opportunities and experiences of working with 'real' objects and conservation scenarios. This semester the students at the CTC are working on a collaborative project with the Glasgow School of Art Archives and Collections. The aim of this project is the conservation and mounting of T-shirts belonging to two deposited archives: the first a collection from Fraser Taylor, artist and former GSA student, and the second relating to Glasgows' year as UK city of Architecture and Design in 1999. Both collections are due to be photographed for the online catalogue and will then be rehoused as part of the post-2014 Fire Recovery Project.
CTC's involvement with GSA Archives and Collections is not newfound. In the aftermath of the 2014 fire, staff and 2nd year MPhil Textile Conservation students from the Centre worked alongside other conservators, staff and volunteers at GSA as part of the salvage team. More recently six students from the first and second years volunteered for the Textile Repackaging Project at GSA Archives from October- December 2018.
The current project began with a visit by Michelle Kaye, the Collections Development Officer who gave an introduction of the GSA Archives and Collections and its Fire Recovery Project to the CTC students. A condition survey of the T-shirts was then conducted jointly by the first and second year students to assess the overall state of the collection and draw out treatment plans. Based on the outcome of the survey it was found that some of the T-shirts were in a fairly good condition and required some surface cleaning and humidification to reduce the creases. Others, from the Fraser Taylor collection, potentially required a wet cleaning treatment for their long term preservation.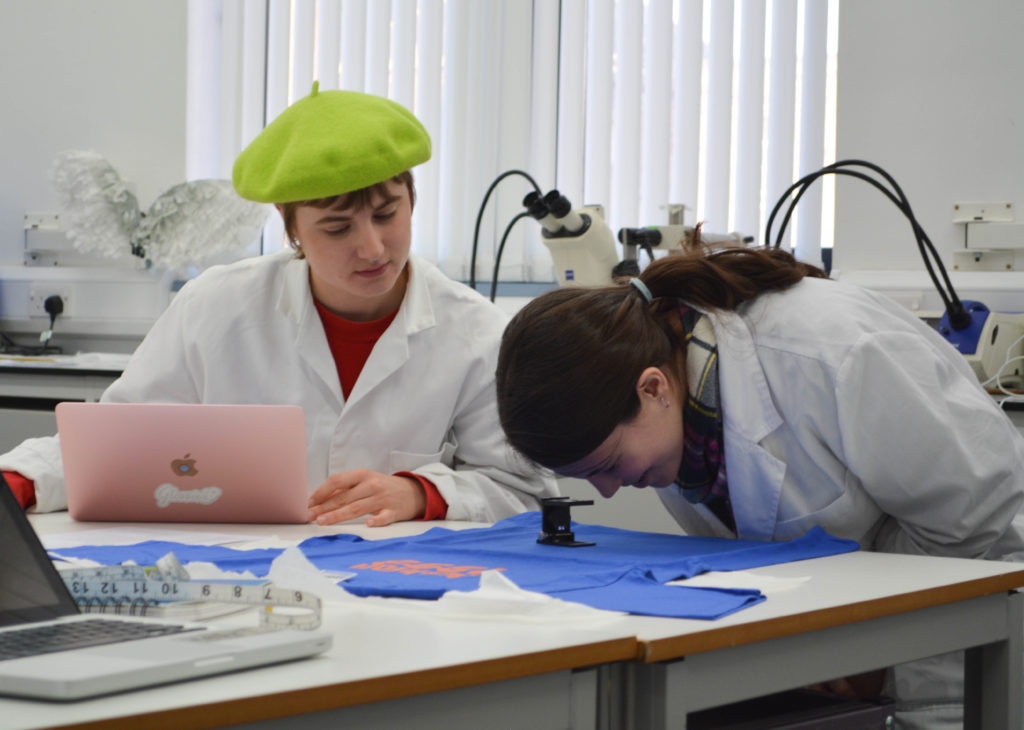 We were fortunate to have both Michelle and Fraser Taylor himself along to the CTC. This gave us the opportunity to talk about our treatment proposals with both the client and the artist. We discussed cellulose degradation, wet cleaning, and evidential soiling, and Fraser gave us some fascinating and valuable background information on various T-shirts in the archive all of which were made by The Cloth, an internationally renowned design collective formed in 1983 by Fraser Taylor, David Band, Brian Bolger and Helen Manning.
The majority of the T-shirts identified in the survey as needing surface cleaning and humidification have had their treatment completed at this point, and each student in the first year is now in the process of undertaking a wet-cleaning treatment on a T-shirt from the Fraser Taylor collection. By the end of the semester we are aiming to have both the Glasgow 1999 and the Fraser Taylor T-shirt collections treated and mounted, ready for storage.