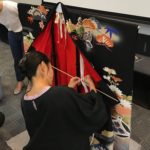 by Staphany Cheng, graduate MPhil Textile Conservation 2018, currently
Andrew W. Mellon Fellow, Textiles, Conservation Center,
Los Angeles County Museum of Art.
Some time ago, I had the opportunity to attend the Workshops on the Conservation of Japanese Textiles, conducted by Tokyo National Research Institute for Cultural Properties (TNRICP) and National Taiwan Normal University (NTNU) held in Taipei, Taiwan.
This is the third and final year that these workshops have been run by the two host institutions. Spread over two weeks, the Basic Course- Cultural Properties of Textiles in Japan, took place in the first week and the Advanced Course- Conservation of Japanese Textiles, took place in the second. The lecturers came from various universities and cultural heritage institutions in both Japan and Taiwan. The attendees were also from a variety of backgrounds and ranged geographically from Taiwan based conservators to museum professionals working in Guatemala and Estonia.
The Basic Course focused on providing an overview of the cultural properties of textiles in Japan, lectures were given on Japanese conservation ethics, fibre science, weave structure, weaving technology, surface embellishment, garment types, storage methods and cultural property protection. There were several practical sessions where attendees were able to examine different textile fragments, practice the three main methods of folding kimono (hondatami, yogitatami/yagutatami and ishodatami), practice mounting a kimono onto a t-barand also to construct a miniature kimono out of a single strip of Japanese paper.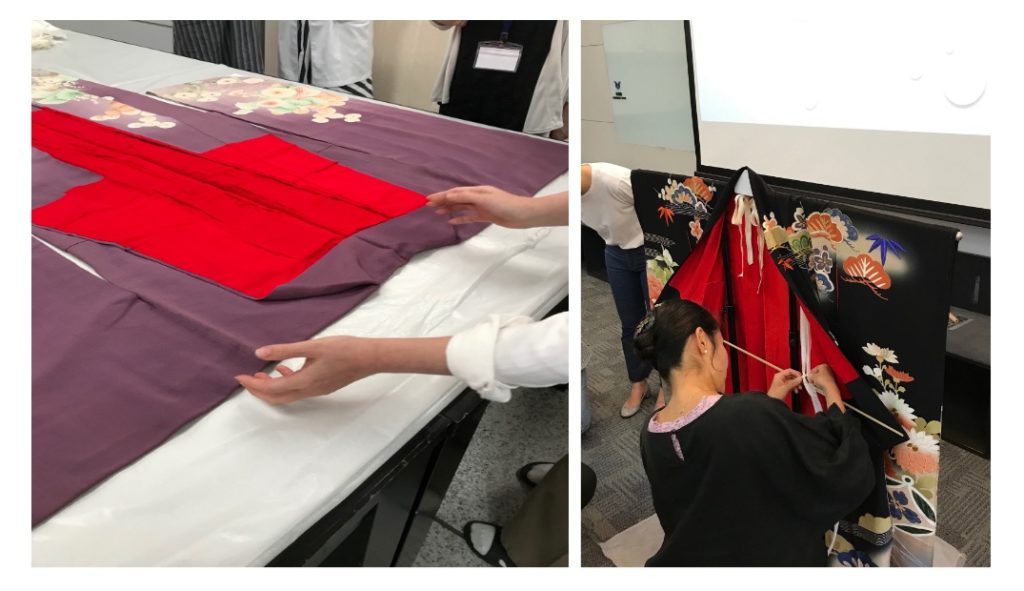 Aside from being able to closely inspect the different weave structures of the textile fragments, I most enjoyed learning about the processes for protecting Intangible Cultural Properties, which includes textile techniques, under the framework of the Law for the Protection of Cultural Properties. This law, enacted in 1950, protects various aspects of Japanese Cultural Properties through a designation process. Our lecture outlined the designation and documentation process, focusing on the preservation of Karamushi (Ramie) production techniques which are handed down in the Showa village in Fukushima prefecture. Technique holders can be certified as a group or as individuals and this allows groups or individuals to label their process or product as designated cultural property and also have access to annual government funding. This process is one of the few in the world that provides this level of documentation, recognition and support for intangible heritage and truly aids the continual existence of these processes and techniques.
The Advanced Course delved into the conservation of Japanese textiles and current conservation practice within Japan. Taught by conservators from Japan and the Research Center for Conservation of Cultural Relics, at NTNU, each topic was covered with lectures and practical sessions. Dr. Mie Ishii, a TCC graduate and an Associate Professor in the Faculty of Art and Regional Design at Saga University, provided an overview on the degradation and damage of textiles and their causes, common dyes used for proteinaceous fibres in kimono making and mechanical and wet cleaning for Japanese textiles.
Yi-Ling Pan and Chiung-Hsia Wang, conservators based at the Research Center for Conservation of Cultural Relics, at NTNU, presented on the use of UV and IR imaging for object documentation and pigment and dye identification. Conservator Pan and Conservator Wang also presented several treatments undertaken at the Research Center, which were informed by these techniques.
Yoshimi Shiroyama and Naomi Yoda, textile conservators from Textile Conservation Section, Shokakudo Co. Ltd., introduced us to current textile conservation practice, within Japan, discussing the type of objects, treatments and institutions that they work with. Conservator Shiroyama presented on the treatment of an early Edo period (c. 17thC) kosode, which took 24 months to complete. Conservator Shiroyama and Conservator Yoda also showed us the methods in which kimono are supported with a full silk lining. Lines of stitching applied in the direction of the warp, secure the lining to the outer kimono fabric. The lines of stitching are evenly placed throughout the garment whilst avoiding areas of surface decoration such as block-printed motifs, embroidered motifs or couched metallic threads.
In the practical sessions, each of the attendees were allocated a kimono fragment dated to the late Edo period. Documentation and analysis of the fragments allowed us to hypothesis which of the natural dyes we had learnt about may have been used. We also put into practice the stitching techniques that Conservator Yoda had demonstrated, securing our fragments onto a silk support fabric. During the final session of the practical workshop we each made a custom tatou, a folder/wrapping made out of crumpled kozo paper, which is traditionally wrapped around kimono. At the end of each section there were opportunities to ask questions or clarifications on specific techniques or case studies.
The workshops provided a fantastic overview of many aspects of textiles in Japanese heritage institutions including curatorial, heritage protection, collection management and conservation. There are few publications in english that covers this range of topics. In addition the workshops gave me the opportunity to meet conservators based in Asia and the Pacific and to hear about their experiences dealing with heritage objects made and stored in hot and humid climates, a combination of environmental conditions that I have yet to experience professionally.
I would like to extend my thanks to TNRICP and NTNU for giving me the opportunity to attend these fantastic courses and to the lecturers who were so generous with their time and knowledge. I would encourage conservators interested in Japanese textiles to look out for repetitions of this course in the future.