by Hannah Sutherland, 2nd year student, MPhil Textile Conservation.
When discussing the conservation of objects it is easy to focus on interesting facts or unusual treatments. This post will take a look at what happens to objects once the main treatment is over. Towards the end of the first year and throughout the second year of the Centre for Textile Conservation (CTC) programme we, the students, get the opportunity to work on objects from a range of museums across the UK, including Glasgow Museums, Manchester City Galleries and Dumfries Museum. In order to keep the objects safe when in storage, and during their journey back to their museums, we will often make supports and boxes for them to live in. We work with contacts at the museums to ensure the storage we make will work with their current storage situation. This could mean keeping the box to a certain size or only using specific materials. A successful treatment can only remain successful if its future care is provided for: even the most secure, strong treatment can deteriorate with incorrect handling or over-exposure to dust and light. Placing objects into boxes helps keep them free from dust and out of the light. Supports, such as padded boards, can allow researchers to lift and turn objects without applying pressure to them. Box-making may not be the most glamorous part of the job, but in the long-term a well-designed box can aid an objects preservation as much as interventive treatment.
A few of the things we do to help with the long-term preservation of the objects we treat:
Large flat objects are often rolled in order to stop them developing creases. This also takes up much less space than leaving them flat. Large three-dimensional textiles, such as costume, may require careful folding to fit into boxes. Tissue paper rolls and balls are used to support these folds.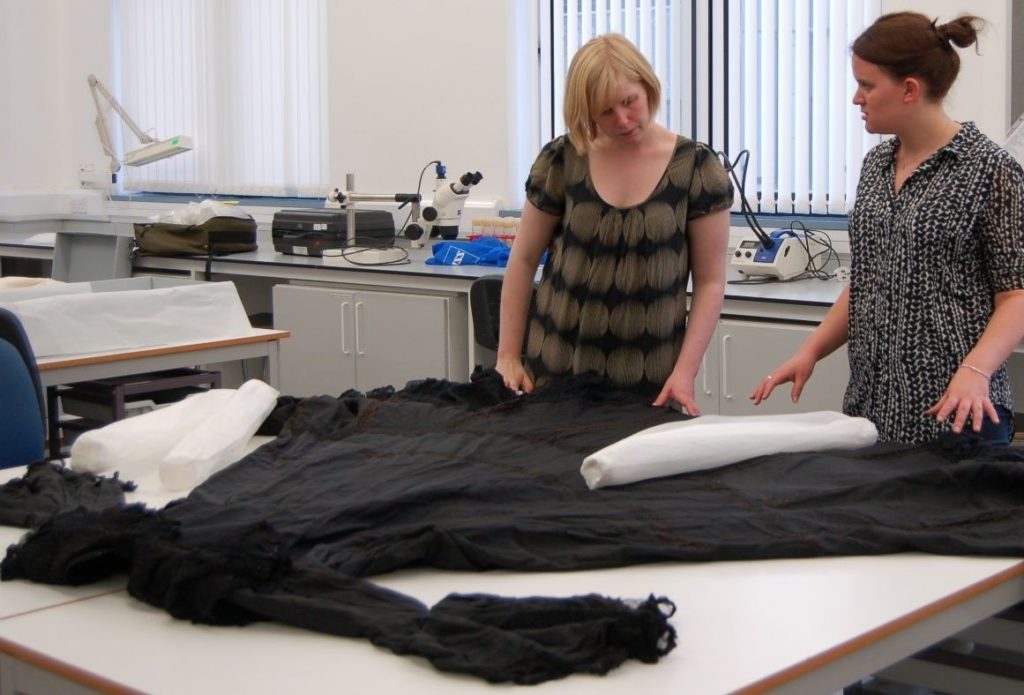 Custom-designed storage can be made when items need to serve a specific purpose. Filling out the "negative space" of this cap allows all four decorative sides to be viewed, whilst stopping the cap developing creases from being folded flat. Some items may have soft-packing, such as silk-covered pads, made for them to stop elements of an object rubbing against themselves or another object in the same box. This is especially important if objects are going to be travelling and have a bumpy ride.
Boxes are a useful way of keeping components of an object together. In some cases an object is damaged and separated parts need housing with the main artefact. Other objects are simply formed of several pieces, for example pairs of shoes or an outfit with separate bodice and skirt. Keeping these parts in the same place makes them easier to find and less likely to get lost.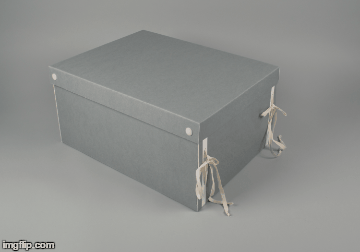 Like many aspects of conservation there are key techniques and materials which are employed to make good storage. Materials are tested to ensure they are suitable for use in long-term housing for objects and old storage is updated if the materials are found to be damaging. For example wooden drawers can be acidic. This can damage and discolour objects if there is no suitable barrier layer between wood and object. The basics of box-making can be quite simplistic, but this soon gets complicated by the need to balance the requirements of a single object with the space and budget available for storing a whole collection.