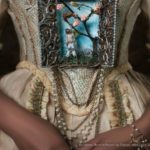 Megan Creamer, Isabel Bader Research Fellow, Queen's University, Art History and Art Conservation Program.
Stapheny Cheng, Andrew W. Mellon Fellow, Textiles, Conservation Center, Los Angeles County Museum of Art.
The study of fashion, dress, and textiles has always been closely aligned with research on the presentation of self, and socio-cultural identities of all kinds including gender, class, ethnicity, and race, among many others. Using different lenses to study and analyse garments has always been a requirement for understanding the culture, era, place, object biography, and meaning of clothing from the past and present. Within conservation practice, intense research on these topics is integral to the formulation of treatments. For some objects, there are limited modern resources in our own discipline that specifically address race directly. Without this understanding, the conservation of articles of dress cannot be fully informed, leaving conservators unclear of the full impact of our potential work on an object.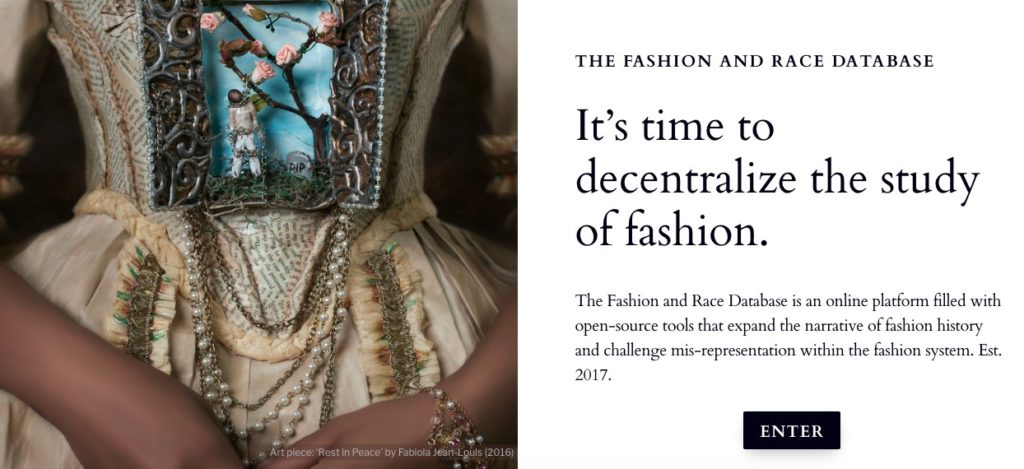 The importance of the intersection of race and dress has been identified by many scholars who have worked in this under-studied area over the years. At the forefront of that research today is Kimberly Jenkins, Associate Professor of Fashion Studies at Ryerson University in Toronto, Ontario. The Fashion and Race Database started as a syllabus and learning curriculum for teaching her classes on fashion history and design at Parsons and Pratt in New York City. Quickly, the necessity of more references, research, and broadly connected information that included analysis and history of race had Jenkins transforming her course materials into a more dynamic website.
Re-launched in July of 2020 as a full database, with expanded tools and functionality, The Fashion and Race Database is a crucial new resource for our field. Through the database, scholars interested in fuller, richer explorations of the dress and fashion of Black, Indigenous, and People of Color (BIPOC) have a central repository to turn to, and a place to disseminate their own new research. As Jenkins said, "there is space at the table for all of us," this resource will be a place where BIPOC voices will be amplified and empowered.
The re-launch party showcased Professor Jenkins' work, along with a team of administrative, research, and technical professionals. Co-hosted by the Fashion Studies Alliance, over 100 avid followers of her work from all over the world joined in, eager to get an introduction to the new interface. As CTC graduates following Jenkins and her work, we felt the Fashion and Race Database will be an important tool to expand the scholarship of both the CTCTAH and the Dress and Textile Histories master's program at the University of Glasgow.
Jenkins and her team will keep expanding the database and are actively seeking out new partners for wide-ranging research, publication, and teaching opportunities. By providing a foundation of previously published work from different professional fields and making the resource free and open to the public, Jenkins invites anyone interested to engage in the confluence of fashion and race.
If you use The Fashion and Race Database, please consider partnering, publishing your own research including writing on personal essays, objects, and people, or donating to keep this resource open and growing for all. Museums, universities, and other cultural institutions or businesses of fashion and design are also welcome to reach out. Creating unique partnerships to create new scholarship and contemporary fashion practice is an ongoing initiative of Professor Jenkins'. While conservation is not the focus of this project, we as textile conservators are all excited for its benefit to our theory and practice of the conservation of dress. We expect great things to come out of this growing academic knowledge network.
Thank you to Kimberly Jenkins and the entire Fashion and Race Database team for the vision, determination, and long-range work to create this resource.