by Frances Lennard
It was a real pleasure to attend the graduation ceremony for our students recently – this is always one of the highlights of the year.  The ceremony, held in the grand surroundings of the University's Bute Hall and cloister, is a blend of the traditional and the contemporary – the graduands' families and friends are encouraged to make lots of noise as they cheer on their loved ones!  Although, sadly, most of our recent graduates were unable to attend this year, they were represented by Daisy Graham and Marika Kesler. The undergraduate ceremony takes place in the relatively balmy summer months but the postgraduate event is always held in December, and Daisy and Marika had to brave the very brisk, cold wind to be photographed in their academic splendour.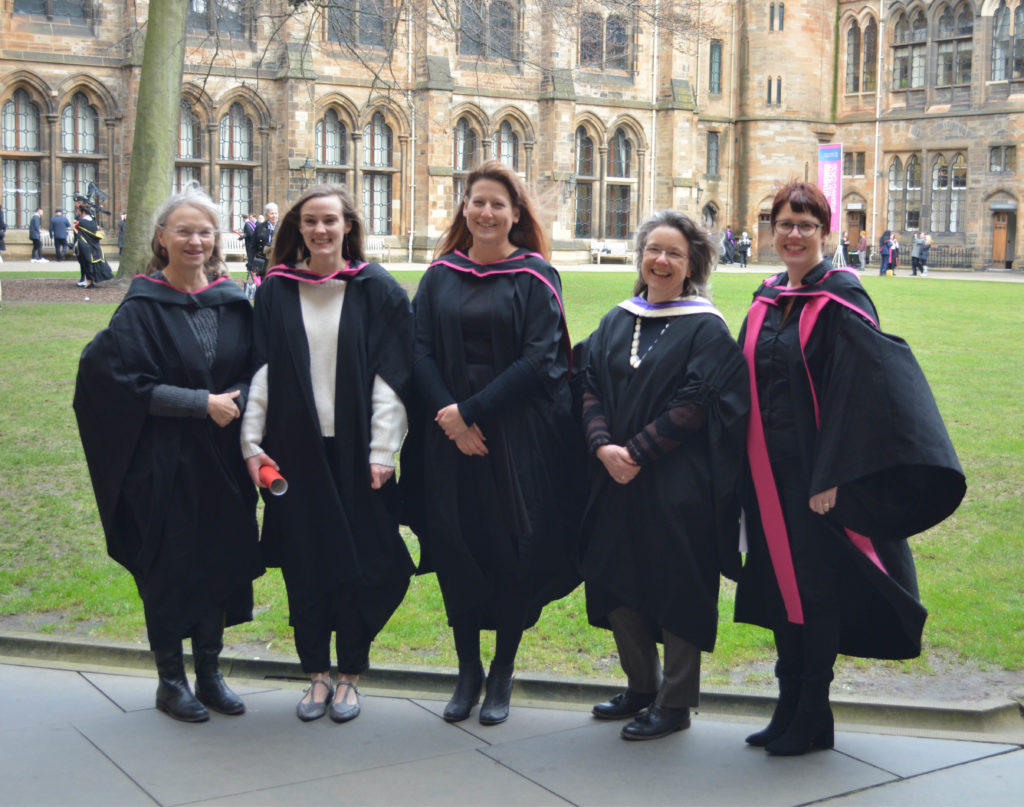 Although it was a pity that the others couldn't be with us, I'm very happy to report that this is because they are already committed to jobs and fellowships internationally. Graduates of the former Textile Conservation Centre and the CTC have a very good track record of moving into prestigious fellowships in the USA, and three this year have taken up Mellon Fellowships:
Megan Creamer with Historic New England,
Staphany Cheng at the Los Angeles County Museum of Art,
and Kathleen Martin at the National Museum of the American Indian, part of the Smithsonian Institution.
Kim Tourret is now the Clothworkers' Tapestry Intern at Historic Royal Palaces while Rebecca Doonan has relocated to the Netherlands and Marika Kesler has been fulfilling a short contract on the barkcloth research project here in the Centre. Daisy Graham is undertaking a one-year internship at the Abegg-Stiftung in Switzerland and Laura García Vedrenne has returned to her native Mexico to take up a post at the Museo Textil de Oaxaca.
We congratulate you all on your achievements and wish you the very best for the future. Keep in touch!