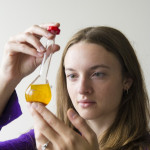 by Anita Quye, Lecturer, Conservation Science.
I am thrilled to announce that Julie Wertz, Lord Kelvin Adam Smith PhD Scholar, is the winner of the British Science Association's prestigious Jacob Bronowski Award Lecture for science and the arts.
This recognises Julie's outstanding communication skills for her cutting-edge novel research to recreate 19th c Turkey red dyeing to inform the interpretation and preservation of heritage textiles.
As Julie's lead supervisor, I am delighted that this exciting collaborative research between the Centre for Textile Conservation in the School of Culture and Creative Arts and Dr David France in the School of Chemistry, with support by Lesley Richmond and the UoG Scottish Business Archive, has received such esteemed public recognition.
Many congratulations to Julie for her outstanding achievement.